Seacology
Divider

Seacology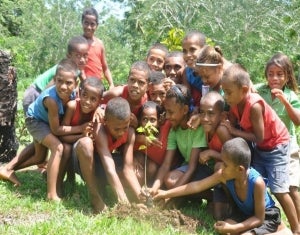 In 1996, the Nu Skin Force for Good Foundation established a partnership with Seacology to help protect fragile island environments for indigenous people. Seacology operates in a unique manner by brokering directly with island communities to protect their environment. The community members themselves carry out the projects, thus defending their natural surroundings.
The Nu Skin Force for Good Foundation continues its ongoing partnership with Seacology to improve the education and environment of young islanders.  In 2015, Foundation funds helped Seacology finance the building of a community center for women and children in Nanuca Village in Vanua Levu, Fiji. In Ovaka Island, Tonga, Seacology used Foundation funds to refurbish an existing community hall and its facilities including a bathroom, water tank, gutters and furnishings. In Berhampur, Chilika Lake, India, construction statrted on a solar-powered multipurpose community center. These community centers enable residents to hold trainings and community-related events that help to provide multifaceted education and vital information for those living in the area. Over 4,400 children have benefited from this partnership.


Seacology projects are win-win conservation partnerships that help young people now and preserve the environment for generations to come, said Dr. Paul Cox, ethnobotanist and founder of Seacology. Through the continuous support we receive from the Nu Skin Force for Good Foundation, a new generation of indigenous people is learning to care for their environment and carry on the unique cultures and traditions of their communities.
The Nu Skin Force for Good Foundation is a major contributor to Seacology, with many of the funds generated from the sale of the Nu Skin Epoch line of skin and hair care products.  For more information on Seacology visit www.seacology.org