CharityVision & Nu Skin Force For Good Provide Vision Care
Divider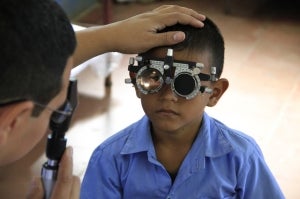 Nu Skin Force for Good Foundation Partners With CharityVision International
The Nu Skin Force for Good Foundation is partnering with CharityVision International to provide school children with vision care and eyeglasses. Whether it's a simple pair of glasses or an involved surgery, the Nu Skin Force for Good Foundation and CharityVision are combining efforts to answer the call for a brighter future for these children.
An estimated 70% of children drop out of school in the developing world because they have an unmet visual need. To substantially lower this statistic, the Foundation and CharityVision have partnered with local optometrists and co-launched a new school screening pilot program for children in Bogota, Colombia. Since the program began in April 2015, the mobile team estimates distributing 1,800 glasses to children in need and screening nearly 15,000 children for visual health impairments in their own neighborhoods.
The plan is to extend the program to other countries in Latin America in the coming years, creating an unstoppable force for good in the promotion of visual health, literacy and education throughout the world.