Children's Brighter Future
Divider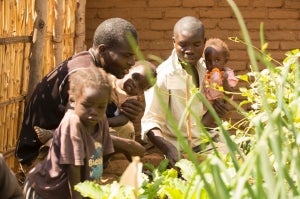 Children's Brighter Future
In October 2012, Nu Skin Japan kicked off the Children's Brighter Future (CBF) in Malawi. BFI is intended to help families achieve financial independence through a groundbreaking agricultural education system. This is a long-term effort to improve children's lives by providing regional leaders with training of agricultural guidance and practices so that they can deliver it throughout Malawi.
In a recent visit to Malawi, Nu Skin sales leaders and employees visited with government farm agents and families participating in CBF, and experienced firsthand the advances that those participating in the program continue to make. The group toured facilities and met many of the families that are taking the skills learned to give their families better opportunities.
In Malawi, more than 80% of its population is farmers. Malawian's average life-span is below 50, and 1 of 2 children under 5 years old is malnourished. CBF is a project developed to deliver a brighter future for children and their families by providing nutritious food as well as educational opportunities. CBF builds on the teaching model at the School of Agriculture for Family Independence (SAFI), enabling more people throughout Malawi the opportunity to learn agricultural skills.