Southeast Asia Children's Heart Fund
Divider
Close
Log In
Login failed. Please try again.
No sponsor found.
You are not allowed to shop in this country.
Please login to take advantage of your campaign offer.
Southeast Asia Children's Heart Fund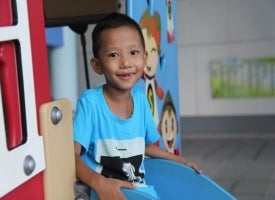 The Southeast Asia Children's Heart Fund has combined Foundation grants with distributor efforts in Thailand, the Philippines, Malaysia, Singapore, Vietnam, and Indonesia to fund corrective heart surgery for underprivileged children with congenital heart disease. Through the Pediatric Cardiac Surgery Foundation in Thailand, Child Health in Life and Development Foundation in the Philippines, and the National Heart Institute in Malaysia, nearly 821 children successfully underwent heart surgery in 2013. Since inception, more than 5,800 children have been saved through this program.