Seacology
Divider
Seacology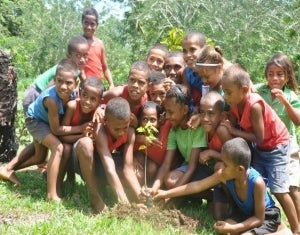 In 1996, the Nu Skin Force for Good Foundation established a partnership with Seacology to help protect fragile island environments for indigenous people. Seacology operates in a unique manner by brokering directly with island communities to protect their environment. The community members themselves carry out the projects, thus defending their natural surroundings.
The Nu Skin Force for Good Foundation continues its ongoing partnership with Seacology to improve the education and environment of young islanders.  In 2012, the Nu Skin Force for Good Foundation provided support to build five primary school classrooms and a footbridge in Madagascar, a kindergarten in Fiji, and provided solar power to an Indonesian junior high school.

Seacology projects are win-win conservation partnerships that help young people now and preserve the environment for generations to come, said Dr. Paul Cox, ethnobotanist and founder of Seacology. Through the continuous support we receive from the Nu Skin Force for Good Foundation, a new generation of indigenous people is learning to care for their environment and carry on the unique cultures and traditions of their communities.
The Nu Skin Force for Good Foundation is a major contributor to Seacology, with many of the funds generated from the sale of the Nu Skin Epoch line of skin and hair care products.  For more information on Seacology visit www.seacology.org