Educate the Children
Divider
Educate the Children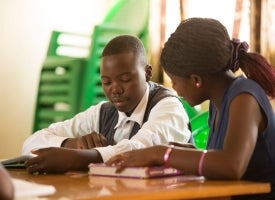 The Nu Skin Force for Good Foundation provides 100 percent of the scholarship funds for the Educate
the Children (ETC) program. Through ETC, each year more than 60 students in Malawi, Africa, received funding support for their education endeavors. 
In 2014, the Nu Skin Force for Good Foundation provided tuition, uniforms and books for 101 secondary
and 47 post-secondary students, contributions also helped 60 students receive college diplomas in Malawi. Those participating in the program are receiving degrees in a variety of areas including computer science, medicine and environmental health. These students are becoming role models for a rising generation of Malawians.    
To date, more than 600 scholarships have been granted through the Educate the Children scholarship program.